Which Direction Should You Run Your Wood Flooring
Which Direction Should You Run Your Wood Flooring?
Home → Consumer Resources → Which Direction Should You Run Your Wood Flooring?
By Rebecca Bradshaw
Gleaming wood floors in rich, natural tones enhance the beauty of any home. Choosing just the right hardwoods or laminated wood flooring to bring out the best in a room can be an art, as is the proper installation of the material. One of the most frequently asked questions from homeowners about installation is which direction should wood flooring run? Should it be laid across the width of a room, or flow lengthwise from an entryway? What about transitioning flooring from room to room? Here are a few guidelines on how to choose the best direction to run your wood flooring.
Visual Impact:
Choosing which direction to run wood flooring can be a matter of personal taste. However, to get the most pleasing or dramatic visual impact, planking should be laid to lead the eye towards a room's focal point, such as a fireplace or other architectural details. Light sources should also be considered; how light falls between the boards can either lengthen or shorten the perceived size of a room. Boards that run from the entrance outwards can make a space appear longer or larger, while flooring laid from side wall to side wall will shorten visual impact, but can make a room feel cozier. Flooring in long narrow rooms or hallways should run outward from the doorway so as not to create a choppy appearance.
Structural Considerations:
Experts agree that wood floors should be laid perpendicular to floor joists—across, rather than in between the joists. Perpendicular installation will make floors structurally sound and prevent boards from separating, buckling, or sagging. The type of flooring material used is also a factor when it comes to installation; engineered wood flooring and natural hardwoods should be mounted above a subfloor, while laminates are installed using the floating method—planks are glued or snapped together rather than being nailed to a subfloor. A professional installer can lay any of these materials in the direction that works best for a space.
Transitioning from Room to Room:
Laying wood flooring in multiple rooms takes some pre-planning and should be carefully thought out before installation begins. Open concept rooms can appear to flow smoothly into one large area if wood flooring is installed from the long end of the space to the other. Oddly shaped rooms or those that open off narrow hallways may not lend themselves to flooring laid along one continuous line of sight; a thin wood strip can be installed to define the threshold where flooring changes direction. To avoid transitions or to create an impactful visual statement, consider having wood floors laid in a diagonal or herringbone pattern throughout your house.
Overall, which direction to run your wood flooring is up to your personal preference and design aesthetic. In either case, natural hardwoods, engineered wood, and laminates are available in several high-quality options and in a wide range of colors and grains that are sure to enhance any home!
Sources: SF Gates Homeguides, My-Floor.com, Houzz, Joe Knows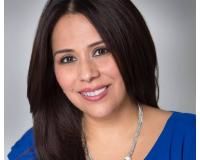 Author:
Marilyn Cortez
Phone:
956-587-1633
Dated:
January 31st 2017
Views:
399
About Marilyn: Always ahead of the highly competitive RGV real estate market, Marilyn Cortez is a Spanish speaking ...