Patterned Tile What The Portuguese Can Teach Us About Style
Look to the Portuguese for patterned tile that transforms a room. Image: CTI Kitchens
We hope you like the products we recommend. Just so you are aware, Freshome may collect a share of sales from the links on this page.
During any renovation or new build, the designer – or design-minded property owner – is tasked with balancing functionality and style. Choices present themselves at every turn. Will you prioritize form or function? Blending your vision with the realities of a space is a major undertaking. If you're in the thick of this process and feel overwhelmed, we've got good news. Patterned tile can deliver both high impact and high function. Your days of deliberating are over!
The patterned tile revival in the US leans into Mediterranean culture. If you're looking for inspiration to turn a simple stretch of tile into a permanent art piece, go straight to the source. Portugal has been famous for its patterned tile – called azulejo – for centuries. That's right, centuries. Did you know that Lisbon is older than Rome, Paris or London? Rich with history and endowed with natural beauty, this historical city uses stunning patterned tile to enchant its visitors at every turn. Bring the romance of Europe's coastline and the significance of centuries-old design into your home for a style slam dunk. Here are a few examples of rooms that use patterned tile to make a splash em estilo português.
Patterned tile in the kitchen
Every kitchen needs a backsplash. Excessive use of subway tile and shiplap may have you poring over style guides and design magazines for a fresher option. Tile with interesting shapes and patterns delivers exactly that.
Maintain an airy feel in the kitchen while adding visual interest. Image: Kat Nelson Designs
Like we said, designing a room requires a careful balance of form and function. You want to choose pieces that are visually interesting. You also want the space to feel livable and comfortable. Too much design can overwhelm a room. Painted tiles grab the eye even as they invite it to take in the full space.
Minimal kitchens are trending. Adding tile can keep them from feeling too spartan. Image: The Stephen Neall Group
Do you love the clean, minimal lines of modern kitchens? If you want to give your kitchen a streamlined look but are worried it will feel austere, add a playful element through tile.
Blend timeless and trendy with a patterned tile backsplash. Image: Savvy Interiors
Choosing a backsplash often feels daunting. There are so many options available. How do you choose one you'll love long-term that still has a wow factor? Painted tile marries a classic, timeless look with a style that will elicit rave reviews from your guests.
If you want more help picking the perfect kitchen tile, we have six tips for you.
Patterned tile in the bathroom
Looking to make a big mark in a small space? Look no further.
A patterned floor can help you take a compact bathroom from blah to beautiful. Image: Designs by Human
Unless you're one of the lucky few with a spacious master bath, you're probably working with some square footage constraints in your bathroom. Laying interesting tile for your floor allows you to add a design element that doesn't take up any room.
Tile doesn't have to stop at the floor. Image: Joinery Group
Continue your pattern up the wall for a look that's simultaneously clean and engaging. Tile walls are ideal for the high-humidity bathroom environment. Plus, they're stylish enough that you don't need to do much else to make your bathroom look finished.
Even a small amount of tile can make a big impact. Image: Ardesia Design
If you like the Portuguese tile trend but aren't fully ready to commit, look for smaller spaces in which to incorporate it. The small insets in the photo above get a makeover with painted tile and provide just enough pop.
You can find more bathroom tile inspiration here.
Patterned tile outdoors
Life al fresco is synonymous with Mediterranean living. You don't have to limit your use of patterned tile to the indoors. Use it in your outdoor spaces to give them a summery feel.
A patterned patio invites you for shared meals and long twilight chats. Image: Studio Hus
Fun, colorful tile makes any patio feel party-ready. Pay homage to warm Portuguese evenings sipping porto and listening to Fado music with a patterned patio you won't want to leave.
Give your home's entry a Mediterranean makeover. Image: Rollins Andrew Interiors
If you've been hunting for a way to amp up your curb appeal, patterned tile is perfect. Nestle some underneath the steps leading up to your home for a stylish way to greet your guests before they even reach your front door.
With so many ways to incorporate Portuguese patterned tile in and out of your home, you're sure to find one that gives you that perfect blend of style and function. Did any of the images above inspire you?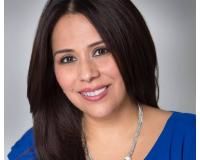 Author:
Marilyn Cortez
Phone:
956-587-1633
Dated:
July 24th 2018
Views:
971
About Marilyn: Always ahead of the highly competitive RGV real estate market, Marilyn Cortez is a Spanish speaking ...