How To Design Childrens Bedroom
June 14, 2018 / Market Insights






Great design isn't just for grown-ups—dreamy home interiors should include kid appeal, too
LIKE THIS ARTICLE? SHARE IT!
Talk to any interior designer about creating a children's room and one word always crops up: fun. While designing spaces for adults is often a serious and sometimes fraught process, creating a child's bedroom or playroom is a creative challenge that everyone seems to enjoy.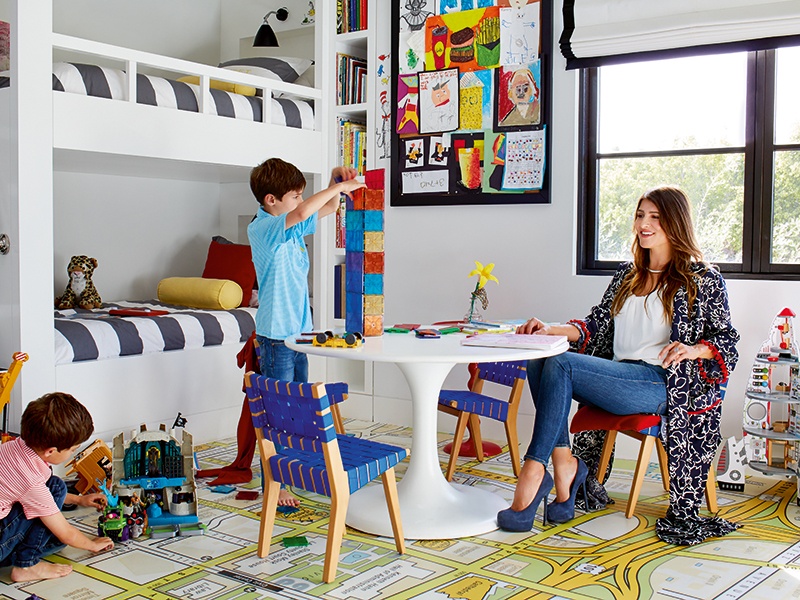 "It's not like a formal living or dining room where every single guest and family member is going to use it and judge it, so we are allowed to take more liberties and chances, add whimsy and fun," says interior designer and art consultant Alison Palevsky, owner of Los Angeles-based Palevsky Inc. "And when people are talking about children, they're happy. They love talking about their kids!"
From climbing walls to chairs that swing, here's how to create rooms with the fun factor…
1. Match it to your child's personality
It's hard not to smile when looking at wallpaper swatches of a starry sky, or sketches showing the multicolored toeholds of a climbing wall. And in the case of Palevsky's sons Miles and Jules, a room with bunk beds for sleepovers, and a giant, colorful vinyl map of downtown Los Angeles for the floor.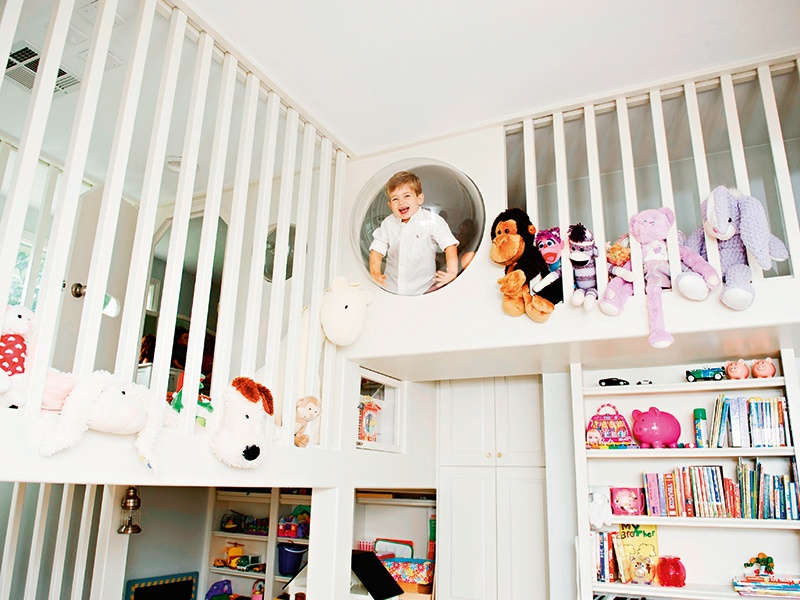 "I love the idea of the kids driving their toy cars on the floor and using it as a giant play mat," she says. "I also thought it would be an interesting tool to help them learn about the city they live in and how it has changed over time."
Interior designer Brigette Romanek of Hancock Design in Los Angeles also created spaces for her own children. "When children love their rooms, it's a nice way for them to grow up," she says. "My children's rooms are fun and wild, just like they are, and they love to be in their spaces. They feel good, confident, and happy there."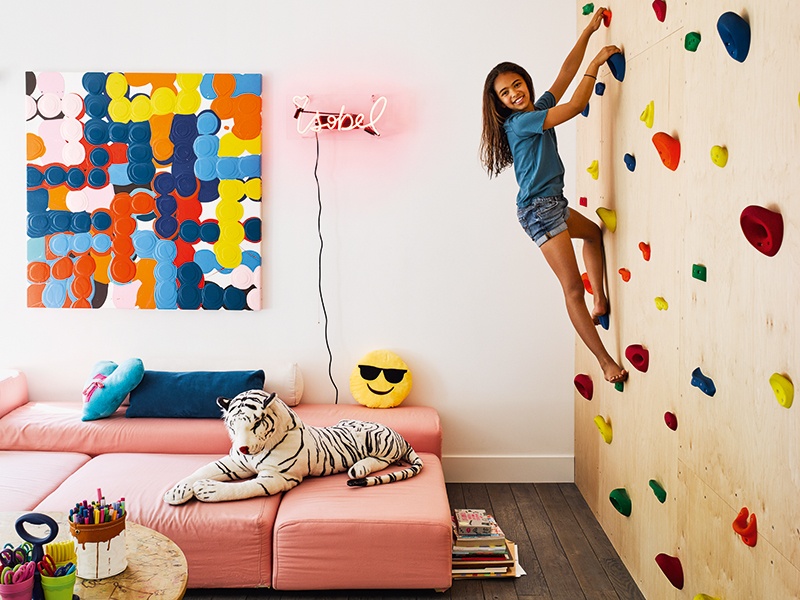 As with any interior-design project, to be successful, it needs to reflect the personality of those who are going to live there, and this applies to children's spaces, too. "We did a room for a little girl who was really into butterflies, so we designed an installation with them all the way up the walls and on the ceiling," says Palevsky. "For girls who are into fairies and forests, we have created a large tree hung with fabric, stars, or lights."
My children's rooms are fun and wild, just like they are, and they love to be in their spaces

Tweet
2. Go for a wow factor
Many designers agree that rich colors should always feature in a child's room. "Adults are out in the world and stimulated, so the colors in their bedroom are pretty mellow and relaxing," says Romanek. "Kids, meanwhile, are full of energy and want stimulation."
Emma Pocock of London- and Geneva-based interior designer Turner Pocock says one of her favorite creations is a bedroom she designed for a little girl. The room's vaulted ceiling lent itself perfectly to being painted with thick red and white stripes to resemble a circus tent. "The child absolutely loved it," she says. "I would have loved it as a child, too!"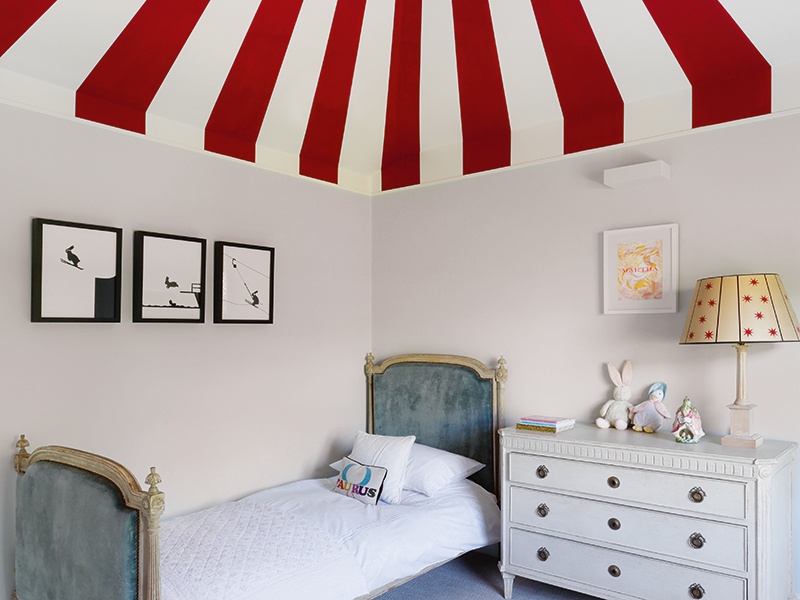 For one child who loved gymnastics, Romanek built mats into the bedroom floor. "We've also installed basketball nets and climbing walls," she says. "And for another, because the room was his only personal space—we created a climbing wall behind his bed, so now he jumps from the wall onto his bed."
Los Angeles-based interior designer Martyn Lawrence Bullard, who has an A-list clientele and works around the world, is also a believer in the wow moment. For one vacation penthouse on Grand Cayman that's being marketed by Provenance Properties Cayman Islands, the exclusive affiliate of Christie's International Real Estate in the Caymans, he created a bedroom for boy and girl siblings. He used a palette of blue, green, and pops of red before adding a hanging chair by the window. "It created a fun visual moment and is a great spot for the kids to read and their friends to hang out," he says.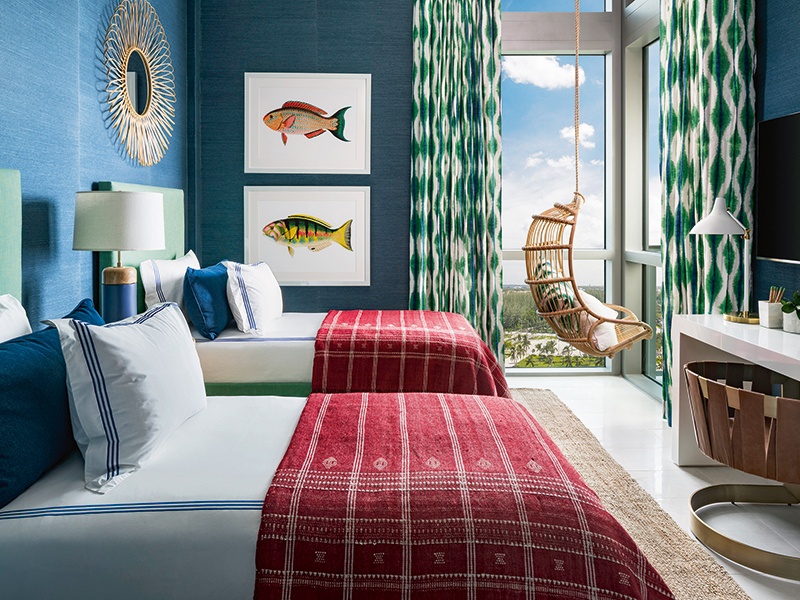 3. Make it fun but functional
Of course, decoration that excites is only part of the design brief: children's spaces must also be highly functional.
"The better and more storage there is, the more places there are to put things that would otherwise be left lying all over the floor," observes Pocock. "We've put in a series of small boxes along the bottom of a bed to store Lego according to color. We'll also do shelves for books and toys. You need overflow beds for when friends come to stay, so we often do twin beds or built-in bunk beds, even if there is only one child in the room. In a smaller room, built-in beds that incorporate sleep and storage are the best way of leaving enough floor space for play."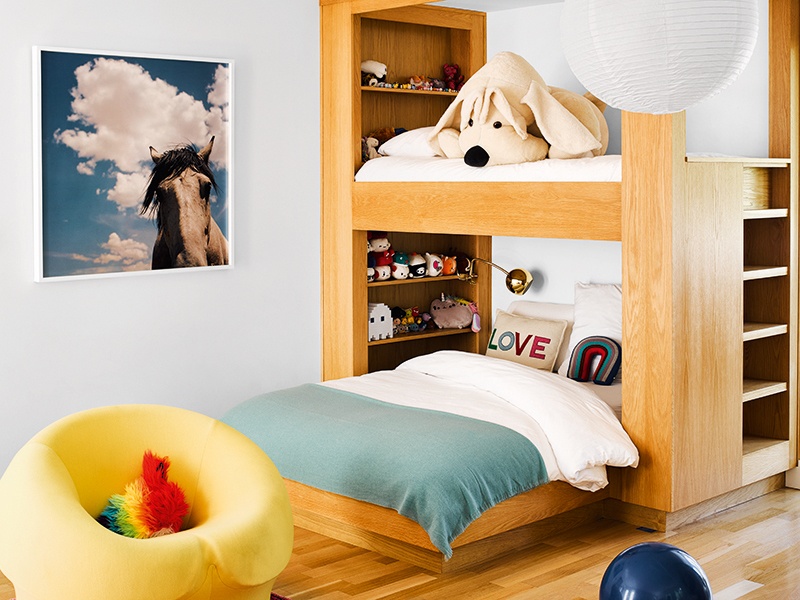 Wardrobes can be built in for a streamlined look or form part of the decorative scheme, either simply by covering the doors with wallpaper or by modifying via other creative methods. "For one child who loved emojis, we did a large smiley face on the wall that was actually a desk with storage," says Romanek.
The layout of a children's space depends on how it is going to be used. "Is it a bedroom or a playroom?" asks Palevsky. "Does there need to be a desk for homework? Do you want to have bunk beds for sleepovers?"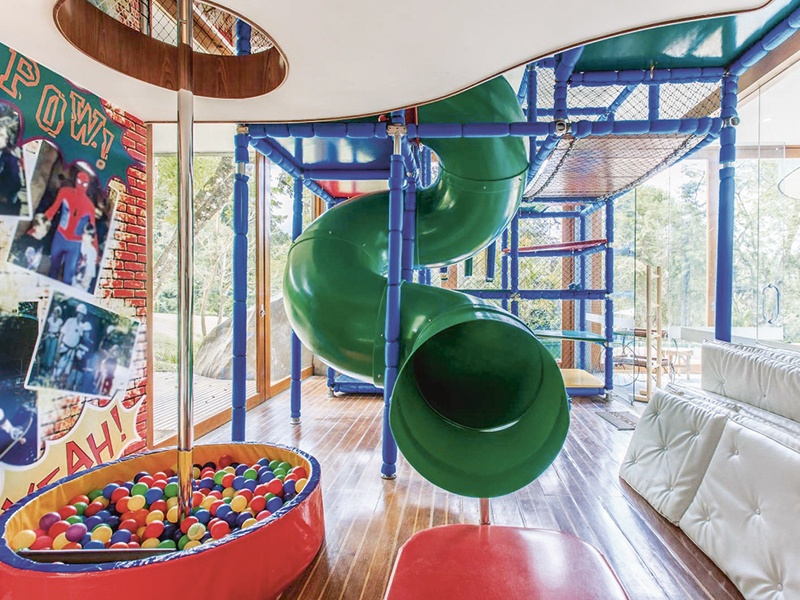 Special places to read feature strongly, with cozy nooks created in the corner of a room, or indoor tents that give a child space to hide away with a good book. "I will always have a place for the child to read with at least one other person," Palevsky adds.


4. Get your child's input—or don't
Bullard is keen to speak directly to the child whose room he is working on. "As children get older, they really start to have ideas of their own," he says. "The children of today have more exposure to design than ever before; they learn early to surf the web for design inspiration that formulates their own style."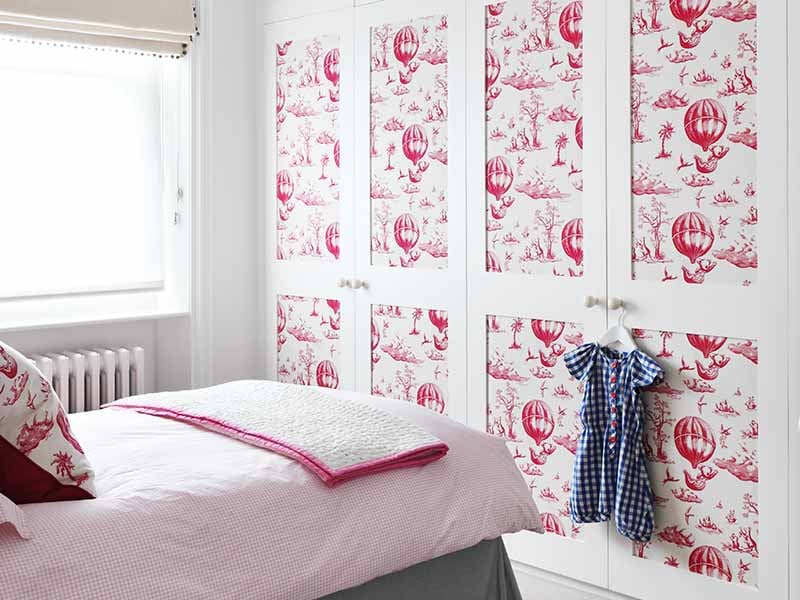 Palevsky usually gives a few questions to parents to pass on to their child. "I find children respond more to parents," she says. "But ultimately, it depends on how much the parents want the child to be involved."
By contrast, Pocock prefers to work only with the child's parents. "We design rooms that children are going to love, and they always do love them," she says. "A child will slot into a nice room because they're very adaptable. For us, that works far better than them getting involved."
When children love their rooms, it's a nice way for them to grow up

Tweet
5. Keep it safe
Keeping children safe is another issue—the toe holds of those climbing walls, for example, cannot give way. "They need to be installed to withstand the weight of an elephant," explains Romanek. "And with chandeliers, they're bolted in even more than usual, because I want to make sure it won't be coming down if a child is throwing a ball around."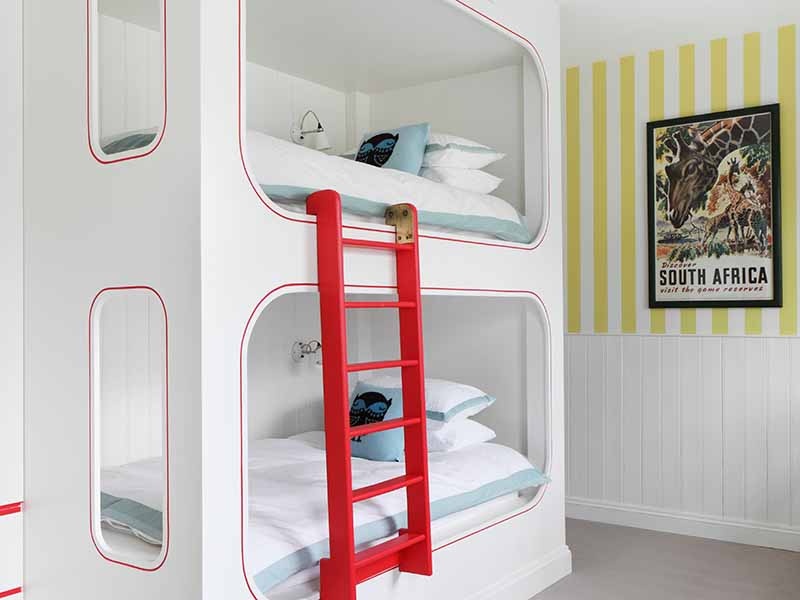 Bunk bed safety rails are put in as standard. "If there is even a short set of stairs, you need to have a banister—and we'll put a few inches of traction tape on the edges of the steps," says Palevsky. "Also, consider the weight and size of furniture—a play table that has some weight to it, and chairs that won't completely tip over."
6. Think about the future
Is it possible to design a room that sees a child all the way through to young adulthood? "About five to seven years is the maximum, as there is such a difference between a four-year-old and a pre-teen," says Palevsky.
Instead, you can future-proof a room with timeless furniture. "This way the layout and big pieces remain the same," says Romanek. "Then you simply change the wallpaper and accessories." The climbing wall can stay, though.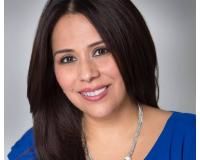 Author:
Marilyn Cortez
Phone:
956-587-1633
Dated:
July 23rd 2018
Views:
443
About Marilyn: Always ahead of the highly competitive RGV real estate market, Marilyn Cortez is a Spanish speaking ...