Garden Designs For A Changing Climate
This year's Chelsea Flower Show showed how green technology can be used to create beautiful, sustainable gardens with a gentler environmental footprint


Each May, the RHS Chelsea Flower Show bursts into bloom in London. Horticultural inspiration comes from all four corners of the globe, making it arguably the world's most influential plant show. Several trends inevitably emerge, and in 2018, sustainability is at the top of the list.
Smart-thinking landscape architects are reducing their environmental impact via water conservation, solar technology, kinetic energy, and drought-tolerant planting—at the same time creating charming and considered designs.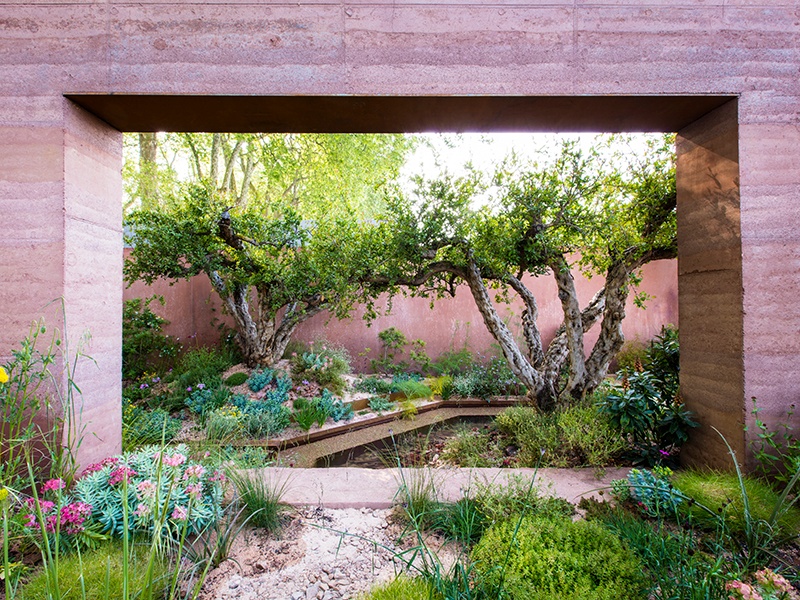 Clay and gravel replace concrete
Sarah Price is one of Europe's most sought-after landscape designers. She co-designed the 2012 Gardens at London's Queen Elizabeth Olympic Park and recently lectured at the New York Botanical Garden. Her designs often have an ethereal, immersive quality—due, in part, to her fine art training—and she has become increasingly sensitive to the need for sustainable raw materials in the built environment.
In the future, our gardens could be self-generating all the energy they need and more besides

Tweet
Price's gold medal-winning design for the show's sponsor, M&G Investments, was a deliberate move away from bespoke materials and machined engineering; instead, her garden featured raw materials dug directly from the earth. Red aggregates, clay, and salvaged terracotta tiles were used to create tactile rammed-earth walls and installations, married with simple Mediterranean-style planting—annual poppies, silver-leaved shrubs, and scented herbal carpets.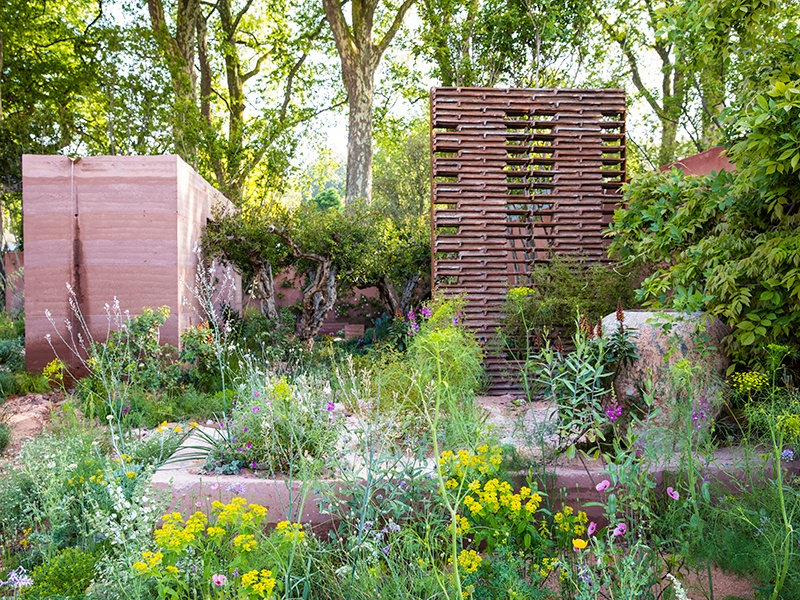 "I wanted to prove that it's possible to use very simple, recycled materials to create a beautiful garden," Price explains. "The color and texture of a rammed-earth wall will vary according to the source of the raw materials, achieving a mellow, aged quality very quickly. And because you can see where each layer starts and finishes, you can appreciate the traditional building skills involved."
Price combined rammed earth with Cor-ten steel for strength – another environmentally sensitive material as it weathers well and requires no painting or chemical protection.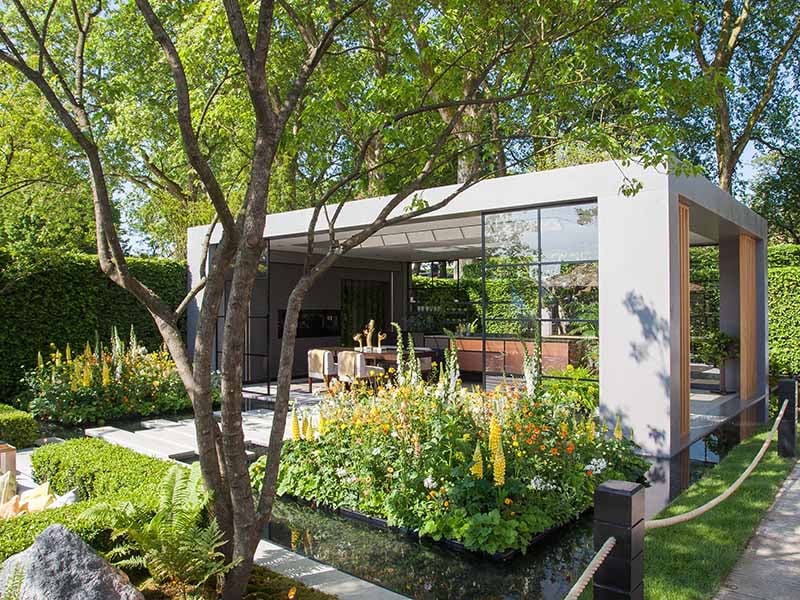 Harnessing green technology
For landscape architect Hay Joung Hwang, originally from South Korea, eco-technology is the way forward. Her elegant LG Eco-City Garden was rich in clever ideas, all discreetly executed, and it was awarded a well-deserved silver-gilt medal.
There were transparent solar panels that generated energy to power the water feature, the LED lighting, and the outdoor OLED TV. A wall-mounted living larder of edible plants was grown aquaponically: the water from a carp pond was pumped around the garden, with the water-borne nutrients from fish waste nourishing the plants. Low-energy lighting was supplemented with smart solar lanterns, while mats of velvety moss at ground and roof level helped to trap air-borne pollution.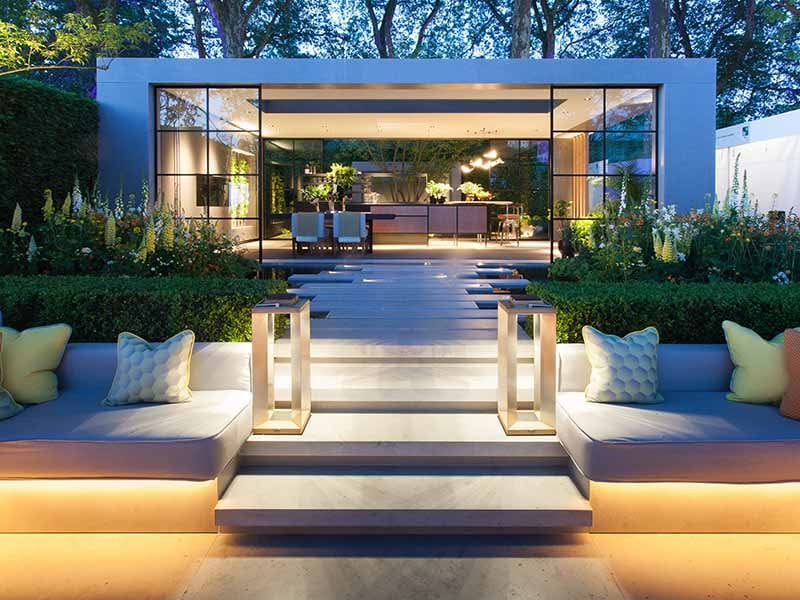 "I always aim to create a design where technology works in harmony with nature, so that people can get more from their outside space," Hay says. She is particularly excited about the Japanese-style moss. "Airborne pollution particles are 20 times smaller than a grain of sand, and they affect our health," she explains. "Moss gardens are a beautiful and effective way of dealing with that because 130 square feet [12 sq m] of moss has the same particle-capturing qualities as 275 trees."


Another interesting development in energy harvesting was the kinetic energy paving in Kate Gould's New West End Garden, also a gold medal design. As the paving is walked on, off-grid energy is created and captured, then used to power other features within the space.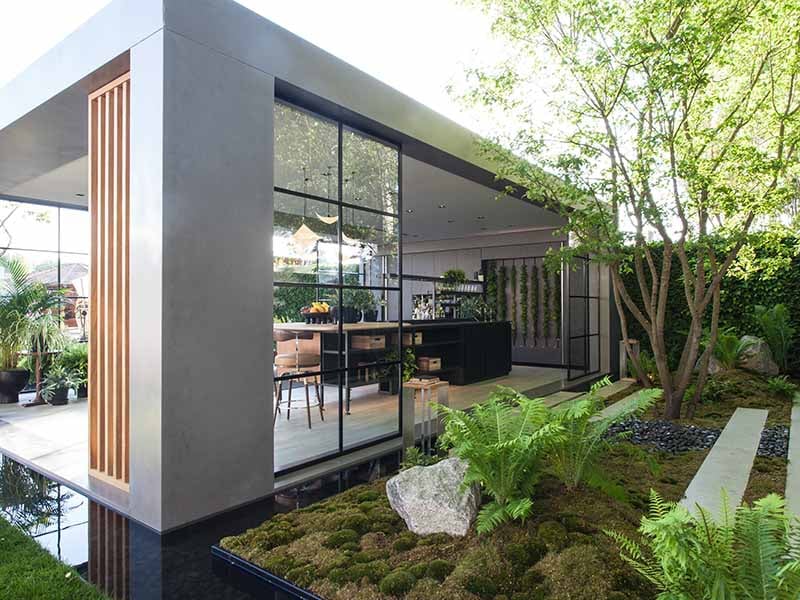 Embrace native landscapes
Gardening sustainably can often mean taking inspiration from a country's native environment. In his Trailfinders South African Wine Estate garden, Jonathan Snow captured the spirit of the South African landscape by borrowing fynbos—indigenous plants—and using them in unexpected ways, earning a silver-gilt medal for his design.
When you see a plant growing in its native environment, you understand the conditions it needs and what grows alongside it

Tweet
"I'm very interested in the provenance of plants, and I learned that some plants from the relatively unfamiliar fynbos landscape are already quite well known—like agapanthus, kniphofia, pelargonium, and protea. By using native plants in a more cultivated style, you can create a garden that still sits comfortably within the surrounding landscape.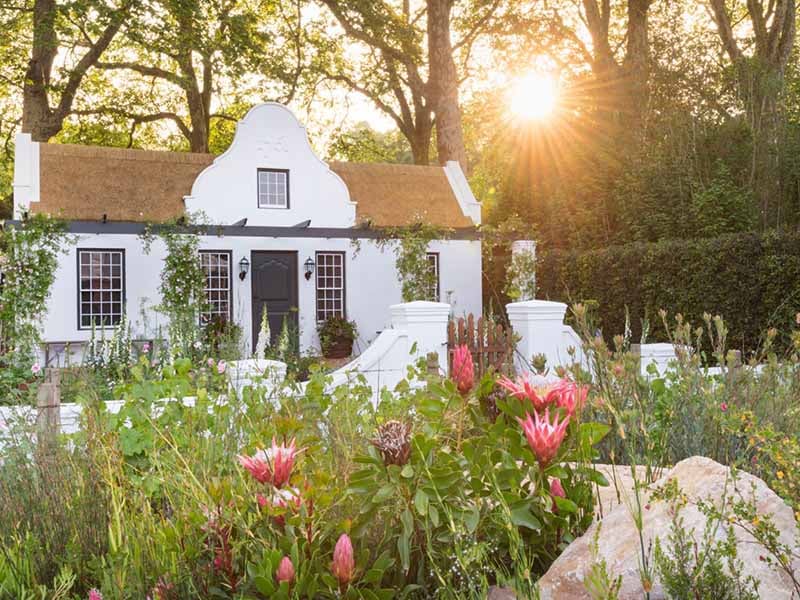 "When you see a plant growing in its native environment, you understand the conditions it needs and what grows alongside it," he continues. "Understanding these natural plant associations makes you a better gardener, and a better designer."
Considered ways to conserve water
All over the world, water is an essential resource; even in a temperate climate, sensitive water management matters. In Tony Woods' Urban Flow Garden—another gold medal winner—elegant handmade clay bricks on a bed of sand created a permeable path, while underground rain garden pockets were covered with stylized laser-cut Cor-ten steel grills. These allowed excess rainwater to gently seep into the ground where it refreshed the roots of plants and trees nearby. Perfect for resolving the issue of flash flooding in city gardens.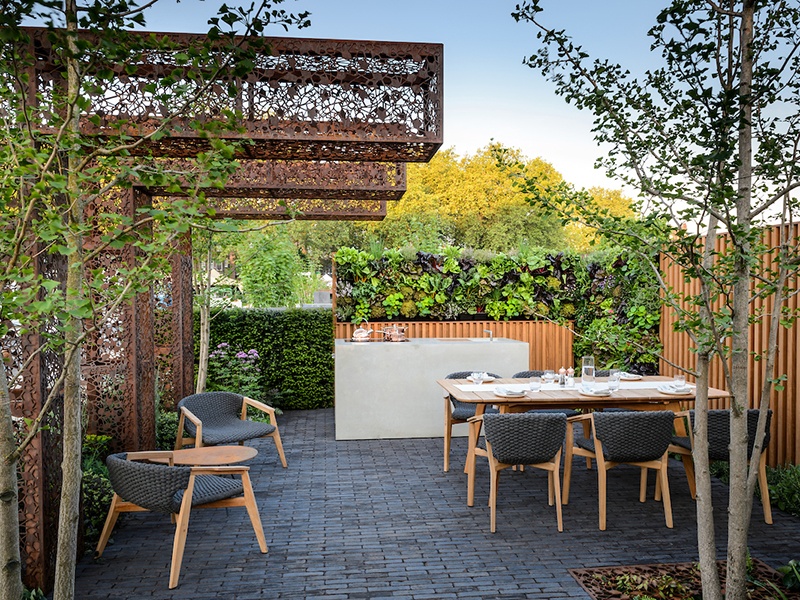 Conversely, where water conservation is a concern, drought-tolerant planting is the smart solution. Euphorbia, thyme, lavender, sedum, and fennel all tolerate a dry soil in a hot climate, while rainwater can be harvested with barrels, underground reservoir tanks, and rain chains.
With green trends and an awareness of sustainability unlikely to disappear any time soon, it's clear to see that today's landscape architects are preparing for tomorrow without compromising on meticulous and beautiful garden design detail.
Aileen Scoular
is a lifestyle journalist and award-winning garden designer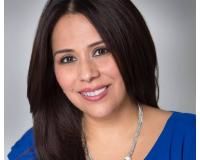 Author:
Marilyn Cortez
Phone:
956-587-1633
Dated:
July 24th 2018
Views:
275
About Marilyn: Always ahead of the highly competitive RGV real estate market, Marilyn Cortez is a Spanish speaking ...