Furniture Ideas Perfect For Small Spaces
Double-Duty Furniture Ideas Perfect For Small Space Dwellers
At some point in our lives, we'll all live or will have lived in a challengingly small space, but how do you make the best use of the space without skimping out on stunning style? With a few of these double-duty furniture ideas that are often overlooked, you too will be able to instantly make a huge difference in making your daily life all the better while keeping it all cleverly out of sight.
Multi-Tiered Occasional Tables
From tiered consoles and coffee tables to ones that boast concealed storage via drawers or cabinet doors, you can't go wrong by using that extra space underneath to store what you don't need out on a regular basis. And if you do stick to open shelving, you'll also be able to create decorative display vignettes that you otherwise wouldn't have had the space for.
Bed With Storage Underneath
Keep your bedroom tidier on a regular basis by using that dead space under your bed to your advantage by creating drawers or bringing in extra storage features so everything will have a dedicated spot. This way you'll know exactly what's under there without second-guessing.
Convertible Sofas
Though convertible sleeper sofas have come a long way in terms of comfort and style, Décor Aid interior designers prefer more timeless investment-worthy pieces that are easier to enjoy on a regular basis, like an option that fully reclines or extends without taking much effort.
Nesting Tables

Double-duty furniture ideas often call for furnishings that are easy to move without being obtrusive and small nesting tables are that, and so much more. Don't let their petite scale fool you – they can help punctuate a small room and are great for adding extra surface space when needed.
Vintage Storage Trunks
Over the years we've seen dozens of clients add Louis Vuitton steamer trunks to their most-wanted lists, and while they make for the ultimate storage solution, their unjustifiable costs should have one double-guessing why they are even living in a small, challenging space.
Instead, opt for a more minimal feel with a brushed stainless steel option that'll help fight everyday wear and tear better while getting the job done in equally on-point style.
A Handy Bar Cart On Casters
A dedicated and well-styled bar cart will be sure to add a sense of everyday elegance in any room, but even better when they're on casters so you can easily move them around when needed for hosting dinner parties.
Ottoman Storage
When looking to add smart storage solutions in a small home that won't cost a fortune and won't go to waste when you do move into a larger home, ottomans make for a fail-proof route. And if you don't overload their compartments with too many pieces, they can also be easily moved around to create conversation areas when entertaining.
A Ladder Shelving Unit
Besides being a great space to store your favorite books(when not in your bathroom, like above), a storage ladder also makes for a chic and practical way to display cherished collectibles, plants, and even linens without taking too much floor space. Plus, it can easily be folded up for when you do need extra space.
Small Space Architectural Ideas
Architecturally speaking, these additions may be more of an indulgence, but they're definitely worth the small investment.
Overhead Shelving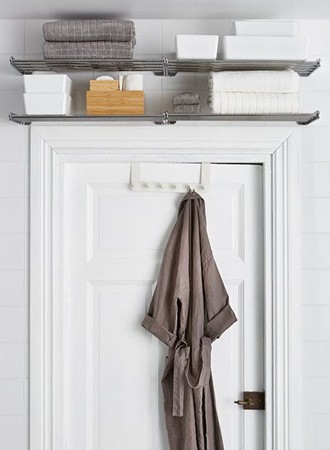 One of the most forgotten dead spaces in any home when it comes to considering installing handy floating shelves is where people often least expect it – right above them. Instead of letting that valuable space above a door go to waste, use it to your advantage with some practical shelving units that'll store what you don't always need at hand like extra linens and bedding.
Space-Saving Pocket Doors
It's almost mind-boggling to think about how much better daily life would be if the ten's of thousands of New York City apartments on the market were stocked with sensible pocket doors. Worth the investment, having pocket doors installed will help save valuable floor space while preventing traffic flow issues.
Accommodating Built-Ins
Though we're not suggesting that you spend a small fortune on having custom built-ins installed, custom furniture that boasts space-saving storage that you can move with you is all the more reasonable. And for when you do move into a larger space, you should have no problem passing along your custom units as long as they're designed in a timeless manner.
Transformable Extras
Double-duty furniture ideas that highlight brilliant design can't be beaten, and this custom wall unit featuring a hidden breakfast nook with concealed stools has to be one of the most stylish and inspiring ones we've seen as of late. It simply turns and folds over so it'll free up floor space when not in use.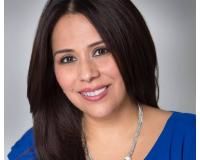 Author:
Marilyn Cortez
Phone:
956-587-1633
Dated:
April 15th 2019
Views:
139
About Marilyn: Always ahead of the highly competitive RGV real estate market, Marilyn Cortez is a Spanish speaking ...